So uhh...hi. For those of you who are newer, I'm Gen, I've been around for a while but I've been a bit...shall we say...inactive in the past year. For different reasons.
One of them is just all the negativity that was around when Glee was airing. Like, I completely get it honestly I do but it was starting to affect my mental health in a bad way and I needed to get away. Seeing what they did to Kurt Hummel just absolutely broke my heart because I related to him so much. He literally saved me a couple years ago and I just couldn't handle watching this show which used to be so uplifting basically tell me that I should just settle for the first asshole who gives me the time of then day. That's just such an awful, toxic message to send to people. Not to mention, the actual fandom was downright terrible and kept attacking me and my friends. So I got away.
I tried to stay for Chris, but for a while, everything about him was related to Glee and I wanted to move past it. I've been keeping a close eye on his other projects though and support everything he does.
Another reason was that I was afraid I wasn't welcome back. Don't ask me why it's just that my brain sometimes jumps to those conclusions.
This past year has been such a roller coaster of everything and it's been tough dealing with all of it but I'm back now, I got to meet Chris, and things honestly haven't been better. I'm much more positive than I was last year and I hope to keep that vibe while I can.



______________________________________________________________________________________________________


"Love is how you stay alive, even after you are gone." -Cory Monteith (May 11, 1982- July 13, 2013)
Welcome back darling! This is a great time for chris fans. All the TLOS publicity has been keeping everyone glued to the screen for days now and will continue. So happy Glee is over and no more bitching. Just stay away from the Snark and Bark thread because that thread is forever reserved for any negative talk so the rest of the place can stay clean.
Now join us, and celebrate Chris' astounding achievement as a young author (and much more to come).

fantastica

Inner Grandma





Posts

: 9676


Join date

: 2012-02-19


Location

: USA, East Coast


Real Name

: the original Kim



Welcome back!
It's so exciting that Chris is moving on to new exciting phases of his career for us as fans.  His writing career is going like gangbusters (and I suspect we just have the tip of the iceberg of his writing output...) and a new high profile Noel Coward bio about to start filming.
It's all good.!!

Buenos

Inner Grandma





Posts

: 6331


Join date

: 2012-04-20


Location

: California



An author can write from youth til death. Chris is only 25 and he's already published more books than many authors in a life time. he will become an extremely prolific writer as he ages. this plus still doing movies/tv etc. we are lucky to be a chris fan. it can be a life long experience.

fantastica

Inner Grandma





Posts

: 9676


Join date

: 2012-02-19


Location

: USA, East Coast


Real Name

: the original Kim



Hi again!
Our love for Chris never goes away.

valkeakuulas

Bruce





Posts

: 2113


Join date

: 2012-04-15



Welcome back ColdFlame96.
 Chris is amazing.
 I agree with you about Glee.




______________________________________________________________________________________________________


Both Chris C & Max A are great actors. Hope they work together again someday.

Huge fan of the talented,  kind  sweet, wonderful  Chris  Colfer

Really enjoyed Old Dog New Tricks. The Best Glee episode in a long time.

ChrisColferFan1

Bruce





Posts

: 2848


Join date

: 2012-04-24



Welcome back, Gen.
I totally understand how you feel about the negativity the last seasons of Glee (and its fandom) brought: I also often thought that it wasn't good for my health anymore, especially for us who love Kurt so much and saw how he was (mis)treated.
Good for you that you were able to take a step back for a while to protect yourself.
But now there's lots of new, exciting things for Chris to come, I'm sure.
So we can all fangirl together again.
______________________________________________________________________________________________________
Glorfindel

Glorfindel

Inner Grandma





Posts

: 8707


Join date

: 2012-02-19


Location

: the Netherlands


Real Name

: Marie



Welcome back, Gen! We're glad to have you back. It's been a fun time to be a Chris fan.
______________________________________________________________________________________________________
Jellyrolls--Chris Colfer Forum Administrator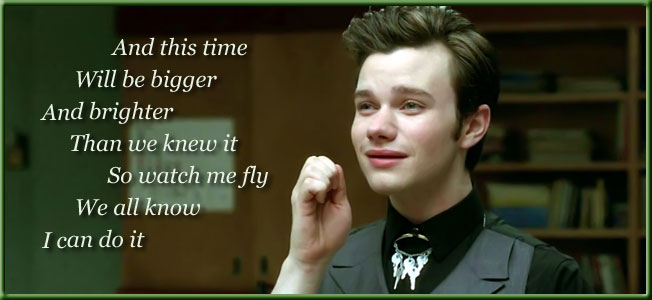 Kurt: "I can't help but pull focus. Sorry." So Kurt. So Chris. So Perfect
RIB--The Greenest Showrunners in Hollywood--Recycling Storylines Since 2011!
For one minute of his life, I had Chris Colfer's attention. It was a great minute.
Blarrenstans are the reason we can't have nice things.
What's shakin', bacon? Kadam forever!
@huggingunicorns @ColferFanForum I think you two are the heads of the
Adam Crawford appreciation society! Ha!--Tweeted by @olliekjones on 4/2/13
Welcome back Gen.
It's good to see you back.
I can understand how you felt as I had a breakdown after season finale 3.
It is a great time to be a Chris fan.

ColferInspired

Inner Grandma





Posts

: 8798


Join date

: 2012-02-20


Location

: Australia


Real Name

: Liz



Similar topics
---
Permissions in this forum:
You
cannot
reply to topics in this forum