Meep! I hate introducing myself! *waves* Hello! My name is Heather, and I've been a long time lurker at this board ever since SBL made it's worldwide debut at the Tribecca Film Festival. I am a HUGE Chris Colfer fan, Kurt Hummel fan and, yes, Glee fan. I've adored Chris for about two years now, and I find him to be a huge inspiration, having been bullied myself and having the same dreams he has. I feel a little awkward saying that I look up to this young man who is two years younger than I am, but he really is a role model. He is everything I want to be as an artist and as a decent human being. Also, we're both gay! (Though I can make an exception for him!)
Ummm....let's see. I love movies and I am a film buff. I love books and I love to write. A hobby of mine is writing fanfiction for RENT, Glee and anything that involves Chris, including SBL and TLOS. In fact, I'm working on my third SBL fanfic as I type this. Chris Colfer is my muse.
We seem to have the same love of the performing arts, literature, psychology, film and so on.
I'm sorry if my posts are riddled with tons of spelling errors. Despite loving to write, I am not the best speller. God bless spellcheck.
Last edited by MoviesAreLife on 1/19/2013, 4:02 pm; edited 1 time in total

MoviesAreLife

Inner Grandma





Posts

: 3647


Join date

: 2013-01-16


Location

: Colorado


Real Name

: Heather



Welcome Heather! don't worry about spelling. mine will never pass 3rd grade if they get graded. just express yourself. we are all nice people here.
again welcome and feel comfy here! hugs
______________________________________________________________________________________________________

fantastica

Inner Grandma





Posts

: 9676


Join date

: 2012-02-19


Location

: USA, East Coast


Real Name

: the original Kim



Welcome Heather!

Don't worry about spelling. I always say that I don't take off points for spelling and grammar errors.

I am a big "Rent" fan. I have scene "Rent" over 50 times. If you are just two years older than Chris, you were still in grammar school the first time I saw Rent back in 1996 (with the original Broadway cast).

And it's not awkward that Chris is your role model. I'm old enough to be his fun favorite aunt, and I find him inspiring. He is truly a remarkable young man!
______________________________________________________________________________________________________
Jellyrolls--Chris Colfer Forum Administrator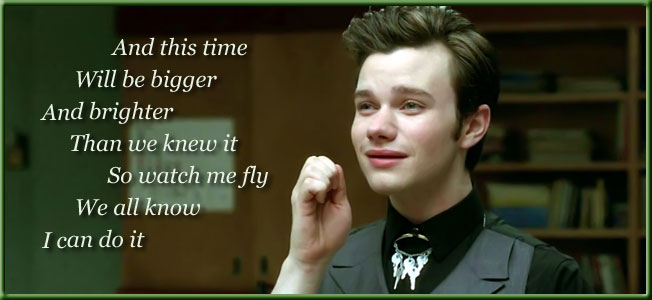 Kurt: "I can't help but pull focus. Sorry." So Kurt. So Chris. So Perfect
RIB--The Greenest Showrunners in Hollywood--Recycling Storylines Since 2011!
For one minute of his life, I had Chris Colfer's attention. It was a great minute.
Blarrenstans are the reason we can't have nice things.
What's shakin', bacon? Kadam forever!
@huggingunicorns @ColferFanForum I think you two are the heads of the
Adam Crawford appreciation society! Ha!--Tweeted by @olliekjones on 4/2/13
Welcome Heather! I am too years older than Chris as well so we are probably similar age :-)

arina

Bruce





Posts

: 1817


Join date

: 2012-02-24


Location

: Czech Republic


Real Name

: Lenka



Hi Heather.
Anyone who can mention Rent, Glee, Chris, SBL and TLoS in one sentence is very welcome here.
Thanks for de-lurking, and enjoy this forum!
______________________________________________________________________________________________________
Glorfindel

Glorfindel

Inner Grandma





Posts

: 8707


Join date

: 2012-02-19


Location

: the Netherlands


Real Name

: Marie



Welcome, Heather!

I am... more than two years older than Chris... and I also consider him to be an inspiration and a good role model; so no awkwardness there, I assure you.
Seeing that you still hold much love for Glee, I'm relieved that our furious ranting of the show in the Glee threads haven't scared you off. Quite a few of us had voiced the sentiment of suffering through the show for the sake of Chris, and I am one of them
Anyway, I hope to see you around more. Thanks for de-lurking!

Delight

Bruce





Posts

: 1981


Join date

: 2012-02-21


Location

: Australia


Real Name

: Zining



Hey Heather!! Welcome to the forum!! I'm so glad you de-lurked, we could always use more friends around here.
I hope you have lots of fun and enjoy yourself here.
No worries about misspelling! If you're weird like me you can always go back and edit your posts so they look better spelled.
And that's awesome that you love to write and to read, so do I - I'm going to college for a degree in English in fact. So we're somewhat kindred spirits.
Can't wait to see you in other threads!

ColferGirl

Porcelain





Posts

: 641


Join date

: 2012-02-21


Location

: Utah


Real Name

: Erin



Thank you for the warm welcome, you guys! I feel so loved!
And EEK at seeing RENT on Broadway during the 1996 run! Did you go to the stage door afterwards?! That's amazing! I met a RENThead from the 1990's a few years ago. Her name was Carly, and I met her when a small local playhouse (called The TownHall Arts Center) put on a local production of RENT. She looked familiar to me and I could've sworn she was my age and went to high school with me several years ago....but nope! Some people just never age.
And it's okay about the ranting. I understand. Some things do not sit well with me when it comes to Glee as well. I wanted to punch a wall when they refused to let Kurt into NYADA last year, I loathe how they always, always seem to make Kurt suffer and never let him have a moment of peace and happiness without taking it away. I don't like their rather schizophrenic approach to Quinn and the brain-dead dumbing down of Brittany. Also, I really hate the fetish they seem to have over the bitchy characters. I am so sick of really bitchy characters on that show. Nonetheless, I appreciate the show for helping LGBT kids everywhere and I will always be grateful to the show for launching the career of Chris.
And thank you, Erin. It's nice to have a "soul sister"!

MoviesAreLife

Inner Grandma





Posts

: 3647


Join date

: 2013-01-16


Location

: Colorado


Real Name

: Heather



---
Permissions in this forum:
You
cannot
reply to topics in this forum