Page 5 of 5 •
1, 2, 3, 4, 5
What did you think of the episode ?
After Rachel slapped Santana and Kurt was saying they were friends, was it Rachel or Santana that said not really? If it was Santana its interesting she goes from saying Kurt and Rachel are her family to not even being friends.
______________________________________________________________________________________________________
Chris Colfer is perfect~ 
I am perfectly crazy.  

when people are angry, they say mean things - things that they really don't mean but it sounds very hurtful to the other. it happens all the time.

fantastica

Inner Grandma





Posts

: 9676


Join date

: 2012-02-19


Location

: USA, East Coast


Real Name

: the original Kim



I adored the Kurtcheltana dymanic while it lasted, but I knew it couldn't last forever. Rachel and Santana are too different and have too much of a negative past to be overcome completely....and now that there was this big blow-up.....it can go one of two ways. Either the relationship is damaged beyond repair forever or it was cathartic to clear the air about all of these deep seated resentments. Perhaps the friendship can come back even stronger now that there are no fake smiles to hide behind?

The friendship between these two is so strange and morbidly fascinating. Equally talented women with a bully/bullied past, polar opposite in almost everything you can imagine from performance style and interests to looks and personality, and both equally insecure.

Rachel was acting territorial over DROMP and Funny Girl, as Kurt pointed out. But given Santana's history with her and all that Santana said about what she really thinks of Rachel, I do not blame her. Did this girl with zero interest in Broadway audition for the understudy of a role that does not suit her because she loves FG so much? No. Because it could help her career? Maybe, if she gets to be on that stage at all. Or did she do it because she was jealous and couldn't stand to see Rachel succeed before her? Because she wanted to prove that she will always be better than short, Jewish, unpopular and "ugly" Berry by beating her at her own game? It's interesting that Rachel and Santana can never be truly happy for each other. Rachel was supportive over her commercial and outwardly positive, but barely able to keep that smile on her face. Santana was supportive of Rachel's photoshoot but envy was coming off of her in waves and she even admitted it. Being in the background of Rachel's success wasn't enough for her. The thing is, I think she needs to find her own success. She'll be happiest when her drive comes from her passions and not about one-upping Rachel. She makes it look like everything she does is about Rachel, not the other way around. I find it hard to believe that copying Rachel's S1 performance of DROMP and audition for Fanny was not meant to be a slap in the face.

I don't give a damn about anything that Rachel did/said to Santana because, frankly, I think it was and always has been justified and a long time coming. The issues I had with Rachel in this episode were the things she said to Kurt: the "it's really hard being a star" usual diva bullshit and freaking out over getting an understudy. Also, saying Kurt was never her friend in the first place....that was so out of line and untrue. I can believe it with Santana, but KURT?! No. Also, why the hell did she move out of her loft? She was there since the beginning of her NYC storyline. I assume her and Kurt's names are on the lease. Santana is just a guest.

The whole "I was more popular than you in high school, therefore I'll always be better!" sounded childish and moronic and very Quinn Fabray-ish.

MoviesAreLife

Inner Grandma





Posts

: 3647


Join date

: 2013-01-16


Location

: Colorado


Real Name

: Heather



Both the girls have soooo many issues and baggage with each other.  I do think Santana is very insecure in her own way and that Rachel's self destructive tendencies torpedo her relationships.  I love them both.

Buenos

Inner Grandma





Posts

: 6330


Join date

: 2012-04-20


Location

: California



Both Rachel and Santana handled things so badly that it's no surprise that the entire thing blew up in their faces. I'm not excusing either of them here.

With Santana, going behind Rachel's back was the smart thing to do in order to give herself a clear shot at landing the job, but she clearly knew that it was going to upset Rachel. Which is why she came back to the loft prepared to defend herself. Now I'll be honest that I don't think Santana needed to defend herself - the job was there and not going for it because Rachel had all these unreasonable fears and issues about being replaceable made no sense. I'm frankly tired of Rachel being catered to when she's not being reasonable. But Santana escalated the fight by pulling up all their high school bullshit issues, which just ensured that no easy peace was ever going to be made. I love Santana, but her habit of using insults as a means of affection makes it very hard to forget just how cruel she was in high school. She didn't start the fight, but she certainly did enough to turn it into World War 3.

As far as Rachel is concerned. none of her behavior here was exactly new territory. She has a long history of going ME ME ME! over things and anyone who doesn't cater to that is an enemy. We saw his in West Side Story when she expressed dismay over her show possibly being canceled due to lack of funding. She treated Kurt horribly in Diva when he dared call her on her poor behavior (again, justified because she is so talented and she is so successful and Kurt is just jealous). When Rachel sets her eyes on something, no one else has a right to exist unless she deigns to allow them to (and nearly always only so they support her position). This is her from Diva amped up because the level of success she has achieved is so much higher. And even the accusations she levels are similar. In Diva see accused Kurt of riding into NYADA on her coattails because Ms. Tibideaux saw that they were friends (dismissing his amazing performance that won hi the spot) and now she accuses Santana of stealing crumbs from her "star sandwich". She still only sees these things as centered around herself and someone trying to take something that she desperately wants away from her.

Between Santana's combativeness and Rachel's hyper-competativeness, it's not too much of a surprise that they would come to butt heads. And given that this is Rachel's life-long dream (and her life-long dream role), it's not too surprising that she would lose any sense of reason or proportion and just began lashing out. The only innocent party here is Kurt and even he got slammed in their war.

I do honestly assign more of the blame for the Pezberry fight to Rachel because she had reached a point where she just couldn't be reasoned with. She was irrational about having an understudy at all (which is something that any actor would know was not open to debate). She was irrational after Santana got cast (when she began to have her Showgirls delusions). When Rachel gets like this, there just isn't any dealing with her until she manages to pull her head out of her own ass. The problem is that too often in the past, Rachel's bad behavior got catered too and I think that Kurt and Santana are past the point with excusing and trying to appease Rachel's issues. Just because Rachel is losing her grip on reality because her unreasonable expectations and demands aren't being met doesn't mean that everyone needs to dance around her to make her feel better. Santana has every right to try for a job that can help her career (as Kurt pointed out). Whether Rachel wasn't to acknowledge this bit of relatity or not, Funny Girl isn't being staged just to showcase her and she doesn't have the right to decide who is fit to be in the cast.

______________________________________________________________________________________________________

Ranwing

Inner Grandma





Posts

: 3529


Join date

: 2012-07-18


Location

: Levittown, NY


Real Name

: Wendy



I like that Kurt wasn't catering to Rachel's whims.
I do think Rachel has carried it too far, though I have to be honest, Santana loves to push her buttons.
She's like the scorpion that just can't help but sting , it's in her nature.
Rachel being an insecure Diva isn't anything new, but you would think that Finn's death would give her some perspective, or course the flip side is that with Finn gone she is more focused then ever that stardom is her only chance of happiness left.
None of this would bother me as much if I haven't started to suspect with my paranoia that this storyline is a segue to Santana/Naya leaving the show. 

Buenos

Inner Grandma





Posts

: 6330


Join date

: 2012-04-20


Location

: California



I was just rewatching parts of frenemies and noticed Kurt wasn't wearing the ring in the scene where he is talking to Blaine on the phone. Blaine should dump him because clearly the ring doesn't mean anything to him.

Seriously, though, I wonder if the prop dept forgot to give it to Chris or if Chris took it off between shots and forgot to put it back on.
______________________________________________________________________________________________________
Jellyrolls--Chris Colfer Forum Administrator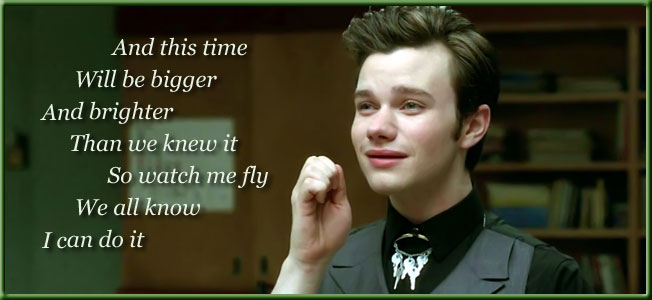 Kurt: "I can't help but pull focus. Sorry." So Kurt. So Chris. So Perfect
RIB--The Greenest Showrunners in Hollywood--Recycling Storylines Since 2011!
For one minute of his life, I had Chris Colfer's attention. It was a great minute.
Blarrenstans are the reason we can't have nice things.
What's shakin', bacon? Kadam forever!
@huggingunicorns @ColferFanForum I think you two are the heads of the
Adam Crawford appreciation society! Ha!--Tweeted by @olliekjones on 4/2/13
Perhaps kurt donated the ring to the homeless man on the street one day because he didn't have any change.

fantastica

Inner Grandma





Posts

: 9676


Join date

: 2012-02-19


Location

: USA, East Coast


Real Name

: the original Kim



Page 5 of 5 •
1, 2, 3, 4, 5
---
Permissions in this forum:
You
cannot
reply to topics in this forum