"Hello, I'm Kurt Hummel, and I'd like to audition for the role of Brian Maxwell, Teen Gay Surgeon," Kurt flashed the three producers of the popular daytime soap, Search for Eternity, his most winning smile.

"Why do I get the feeling you played Rolf in The Sound of Music?" Roger Sullivan, executive producer of the soap, asked with a slight smile on his face.

"I was Kurt, actually, in my eighth grade class play. Well, and Maria for the final performance when Maggie Salazar fell off the stage and broke her collar bone. "

Roger Sullivan looked at the young man standing before him thoughtfully, and said, "Okay, Kurt let's see what you can do."

For a brief moment , Kurt panicked. He looked at the sides in his hands and wondered, what should I do? Should I follow the advice of Cooper Anderson, (Blaine's brother the actor) and stick to pointing, interspersed with random yelling? That's just not me.

He made a decision, and filled his mind with images of eye-infections, eye gauging, and contact lens. The tears start to flow, and he began, "Dr. Angelo, you're my mentor, my friend, and possibly my biological mother; and now, I hold your life in my hands." Kurt looked at his hands, and his eyes widened as he contemplated what it would mean to have the power of life and death over another person. "You taught me everything I know, but is it enough to save you from this brain tumor? Am I good enough? Should we wait for a more experience surgeon to be flown in from New York?" He paced the floor, completely caught up in the dilemma of this character. "But, if we wait even a single day, it could be too late. Oh, Dr. Angelo, if only you weren't in a coma and could advise me!" He stopped, and his face hardened with resolve, "Nurse," he called out, "Prepare the patient for surgery. We operate at once!"

The three producers applauded his scene, all smiles. "That was fantastic," Sullivan said. "Thanks for auditioning. We'll let you know."

Kurt bowed, and said, "Thanks for the opportunity." He turned and left the producers with their heads together in a whispered conversation. He made his way out into a waiting room overflowing with other hopefuls and Rachel, who was holding a newspaper that read, "Want to be an Actor? Search for Eternity holds open auditions today!"

"How'd it go?" she asked.

"Well, they seemed to like me, " he answered uncertainly.

"Me too! Maybe we'll both get cast, and then who needs NYADA? We'll be working actors!"
They laughed, and left arm in arm to join New Directions for a final rehearsal before Nationals.

~~~~~~~~~~~~~~~~~

Kurt continued to wave goodbye until Rachel's train was out of sight. "You okay?" Finn asked.

"Yeah, I got a lot of unpacking to do. How about you, are you okay with everything?"

Finn sighed, "It's all for the best. Rachel has to follow her dreams, and I have to find mine. See you at home. " Head down, shoulders hunched defensively against a world that had once again proved to suck beyond the telling of it, Finn climbed into his car.

Watching his stepbrother drive away Kurt thought, at least you have a plan. I don't know what I'm supposed to do with my life. Just then, his phone rang.

"Hello?"

"Kurt Hummel, this is Roger Sullivan from Search for Eternity. I'd like to offer you a part on my show."

To be continued. . .

Vir Cotto

Llama





Posts

: 118


Join date

: 2012-02-25



Finally, someone appreciates Kurt's talent
______________________________________________________________________________________________________
Jellyrolls--Chris Colfer Forum Administrator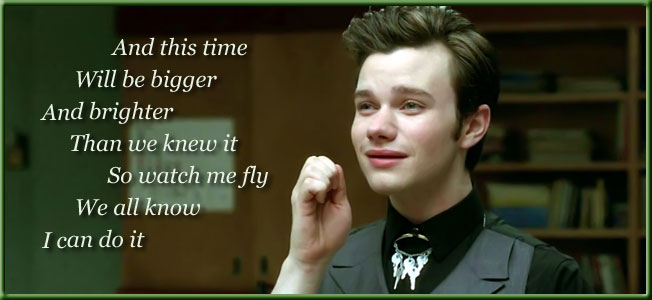 Kurt: "I can't help but pull focus. Sorry." So Kurt. So Chris. So Perfect
RIB--The Greenest Showrunners in Hollywood--Recycling Storylines Since 2011!
For one minute of his life, I had Chris Colfer's attention. It was a great minute.
Blarrenstans are the reason we can't have nice things.
What's shakin', bacon? Kadam forever!
@huggingunicorns @ColferFanForum I think you two are the heads of the
Adam Crawford appreciation society! Ha!--Tweeted by @olliekjones on 4/2/13
---
Permissions in this forum:
You
cannot
reply to topics in this forum